Hiking Shoes, Hiking Socks – What to Wear on the Trail
by Jon Scarlet
"When your feet hurt, you hurt all over." That old phrase is never more true than when we're in pain 10 miles up in the wilderness. So how do we prevent this catastrophe from happening? First let's talk about foot types. Grandma could have given you one of three foot types:
• 1) A low arch, loose, flat foot
• 2) A rigid high-arched foot
• 3) A medium height, medium stiff foot/somewhat flexible foot.
How do you know which type you have? Take a look at Fig. 1. This schematic is similar to what a footprint might look like stepping out of a shower or onto the beach.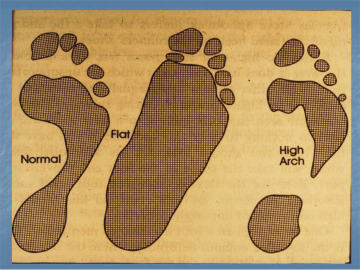 Fig. 1. Outline of the three basic foot types
Each foot type functions better in a different shoe type. Basically there is a simple rule. A stiff (high arched) foot does better in a softer shoe. And a flat, looser (low arched) foot does better in a stiffer, more supportive shoe. Forget the word "good." Almost all shoe companies make all type of shoes.
Very often we are told that "this is a good shoe." Translation: this is a stiff, expensive shoe. That's often a meaningless phrase. The shoe must be appropriate for your foot type and the your activity level. If you hike with a 60 pound pack for 10 hours a day then, yes, you probably need a stiff, expensive shoe. But if you do recreational hiking for four or so hours and only carry a 5-10 pound pack, then pay more attention to your foot type than the load-carrying capacity of the shoe.
What shoe features do we need to know? See Fig. 2. A stiff shoe (best for a person with a low arched, loose foot) has a stiff heel counter (the part that wraps around the back of the heel) and stiff shank (the part that is under the arch-not labeled in this drawing). A soft shoe (best for a person with a rigid high arched foot has a softer counter and a more flexible shank.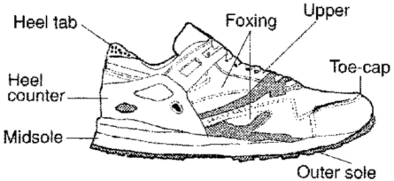 Fig. 2.  Parts of a shoe
All shoes must have ample toe room. The front of the shoe is the toe box or toe cap. For most people the second toe, the one next to big toe, is the longest toe. Be sure there is about one finger width space between the end of the longest toe and the end of toe box.
When to buy shoes: Always try on shoes in the afternoon or evening. Use the socks you will use for hiking. Everyone's feet swell a little in the afternoon, so sizing a shoe that time of day is best. Walk around in the store for at least five minutes to see if the shoes are comfortable. Never expect the shoe to "break in." Feet break before shoes.
Fabrics for socks: Use socks made of wool, polyester (DuPont "Coolmax" is the best polyester), or a blend of these fabrics with perhaps a small percent of Lycra (elastic). These fabrics will not hold onto moisture. Cotton socks absorb moisture, holds on to the wetness and becomes soggy. Acrylic socks are like plastic bags. Both cotton and acrylic are BAD.
The right shoes and socks make for happy hikers. If you go to a shoe store, and the salesperson doesn't know the facts mentioned above, don't stay. If the person knows, give him or a her a kiss. See ya out there!
Summer Activities Director, Park City Mountain Sports Club
Chief Podiatrist, Boston Marathon, 28 years
Board Certified Foot Surgeon
Memberships: American College of Sports Medicine
Wilderness Medical Society
American College of Foot and Ankle Surgeons
Instructor in Foot Surgery, University of Massachusetts Medical Center, 10 years
Chief of Podiatry, University of Massachusetts Medical Center, 8 years
Past President, Inline Skating Club of Boston, 2 years
Past President, Massachusetts Podiatric Medical Society